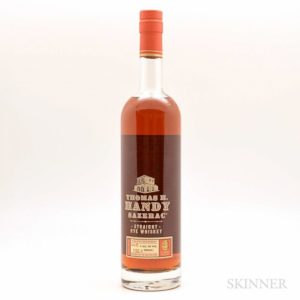 Thomas Handy Rye Whiskey
In 1830, Thomas H. Handy was born in Maryland. Meanwhile, down in New Orleans a number of saloons veiled as coffee houses began lining the streets of the French Quarter. A young man named Antoine Peychaud Jr. began serving cocktails made with brandy and his secret family recipe for bitters. The cocktail became famous and was dubbed the "Sazerac Cocktail", after the Sazerac Coffee House on Royal Street.
In 1847, Thomas H. Handy arrived in New Orleans. He immediately went to work for John Schiller at a liquor store on Royal Street. Schiller eventually bought the Sazerac Coffee House and Handy quickly became an expert barman, concocting fabulous Sazerac cocktails for his patrons. In 1869 Handy's friend and boss John Schiller died. Handy bought the coffee house and asked his friend Peychaud to join him in business. IT was the great age of coffee houses in New Orleans and there was one on every corner. The New Orleans Times newspaper published an articled stating, "The oldest and best known of these houses is the Sazerac."
Thomas H. Handy was established and successful, but never content. In 1873, he altered the recipe for the Sazerac Cocktail by replacing French brandy with American rye whiskey. Patrons preferred the taste of rye whiskey over brandy because it was more robust and spicy. The whiskey had a bouquet of pepper clove, and wonderful flavors including citrus and candied fruit.
Thomas H. Handy Uncut and Unfiltered Straight Rye Whiskey is bottled directly from the barrel, just as it was over a century ago. Enjoy the authentic American rye whiskey as a symbol of the timeless history of New Orleans and legacy of Thomas H. Handy.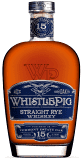 WhistlePig Rye Whiskey — 15 Year
Within this bottle is the culmination of years of a liquid chosen from our finest stocks to be aged for more than a decade, only disturbed as it was transferred from hand-selected ex-bourbon casks to barrels made from slow-growing Vermont Oak harvested on the WhistlePig farm.
The harsh winters and shorter growing seasons of the Green Mountains bestow a tighter grain pattern upon these trees, imparting nuanced flavors into the whiskey. After being milled, seasoned, and raised by some of the best coopers in America, the new barrels receive a long toast and heavy char designed to draw out a rich sweetness that complements the natural spice of aged rye.
The final product mingles rye spice with wood sugar, earthy oakiness and lush citrus notes, all wrapped in a velvet smoothness unique to the finest aged spirits. We are proud to share with you the fruit of our labors: the WhistlePig 15 Year.