1000 whiskey choice selections. Check out our Daily Specials!
Myrtle Beach liquor has been supplying brand name whiskey to the Grandstrand for over 10 years. Looking for a hard to find Whiskey? Check out our whiskey specials!

There is absolutely nothing like sipping some neat whiskey while watching the waves crash on the shoreline in Myrtle Beach. Share a whiskey with friends and family while here at the Grandstrand on Vacation.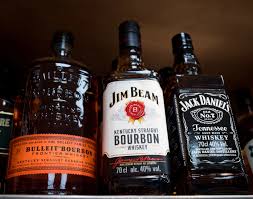 We carry whiskey from the following countries: America, Australia, Canada, England, Germany, Ireland, India, Japan, Scotland, and several others.

America's thirst for whiskey is strong and shows no sign of diluting. U.S. whiskey sales are up 4 percent in the past year, with American whiskey, Canadian whiskey, flavored whiskey, and one very famous Irish whiskey rising to the top of this year's best-selling brands.
These are the top 20 best-selling whiskey brands in America, according to IRI Worldwide, a market research firm that measures off-premise sales such as those in liquor, grocery, and convenience stores.

We sell all these brand name whiskey's at Myrtle Beach Liquor.
BUCHANAN'S SCOTCH WHISKY
RICH AND RARE CANADIAN WHISKY
KESSLER AMERICAN WHISKEY
WOODFORD RESERVE BOURBON WHISKEY
DEWAR'S SCOTCH WHISKY
CANADIAN CLUB WHISKY
CANADIAN MIST WHISKY
SOUTHERN COMFORT AMERICAN WHISKEY
BULLEIT BOURBON WHISKEY
WILD TURKEY BOURBON WHISKEY
JOHNNIE WALKER SCOTCH WHISKY
BLACK VELVET CANADIAN WHISKY
EVAN WILLIAMS BOURBON WHISKEY
SEAGRAM'S 7 CROWN AMERICAN WHISKEY
MAKER'S MARK BOURBON WHISKY
JAMESON IRISH WHISKEY
FIREBALL CINNAMON WHISKY
JACK DANIEL'S TENNESSEE WHISKEY
Click here for directions and come see us!