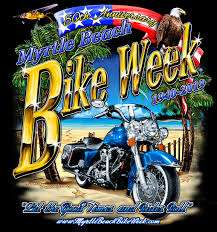 Myrtle Beach Bike Week Spring Rally May 10-19, 2019
Myrtle Beach Bike Week Spring Rally is set for May 10-19, 2019 and will feature bike shows, vendors, tours and more around the Grand Strand. Enjoy cruising daycations to Charleston or up to Wilmington, N.C. Harley Davidson locations are hot-spots throughout the week along with hangouts like Jamin' Leather, Beaver Bar, the Rat Hole, Suck Bang Blow, Myrtle Beach Speedway, Ocean Annie's Beach Bar and many others. There's also a Loop Tour that's nearly 200 miles through Horry and Georgetown Counties.
Grab your riding gloves, pack your saddlebags and plan to attend the largest bike rally in the Grand Strand, namely Myrtle Beach Bike Week. This 10-day gathering of Hog appreciators happens each May and stretches from the Atlantic Ocean in the east over to the Intracoastal Waterway in the west and north and south through the counties nearby. Imagine coasting along on your Harley and appreciating the sweet rides of about 300,000 attendees at this famous bike rally. The sheer enthusiasm of that many riders congregated in one destination is contagious and if you are mainly interested in buying a bike at some point but have no idea exactly what you would like, Myrtle Beach Bike Week would be an excellent opportunity to see all the custom builds and narrow down your search. A parade of motorcycles gathered in one place provides a festival-like atmosphere that draws the crowds. Owners and non-owners alike will appreciate the opportunity to view the variety of bikes in one place.
Whether you ride your bike to this famous North Myrtle Beach, South Carolina bike rally or trailer your precious baby until you arrive, the Myrtle Beach Bike Rally is an amazing opportunity to spend some quality time with your riding buddies. With Highway 31 stretching from Little River in the north down to Highway 544 near Garden City in the south, this stretch of highway provides an uninterrupted, open road opportunity to take a lengthy ride with your pack to unwind and enjoy a reasonable cruising speed. Revving your engines will be the highlight of the day when you attend Myrtle Beach Bike Rally. New cycles as well as rebuilds are on display for you to photograph to your delight.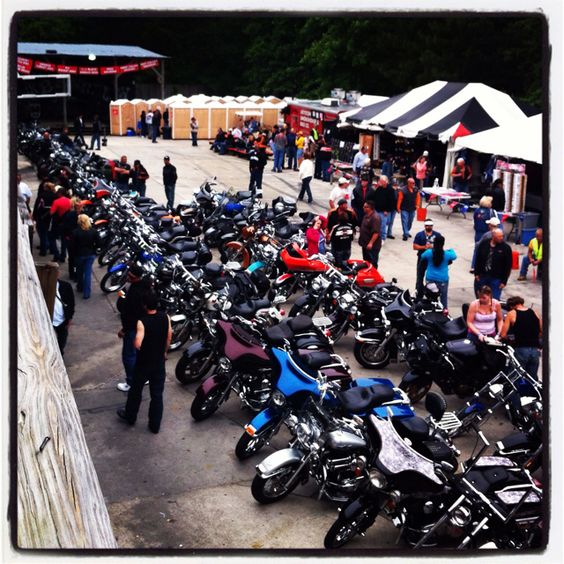 If you find yourself looking for a specific accessory to complete your ongoing ensemble or you are just starting to buy accessories, Bike Week is the perfect opportunity to acquire some finds. Bike Week brings the vendors to you and nearly any addition you would like to make to your bike can be acquired while you are attending. Even if you do not ride yourself but know someone who does, Myrtle Beach Bike Week gives the perfect opportunity to pick up a gift or two for your cyclist friends. Leather accessories are abundant and the local Harley-Davidson store is always poised and ready to serve the requests of its biker friends.
You could only imagine the magnitude of Bike Week in the Grand Strand and local establishments step up to the plate to meet the needs of the bikers attending. Myrtle Beach Liquors will be offering the best selection, best prices and best customer service for all visitors. Look for the Hummer on Kings Highway:
Barefoot Landing in North Myrtle Beach, South Carolina is a bustling arena as is Jamin' Leather. Murrells Inlet provides opportunities to pick up some accessories at stores like Suck Back Blow and during Bike Week, there are bike-themed activities and motorcycle stunts in this area. For those looking to see or be seen, the biker bars are a common place to congregate during Myrtle Beach Bike Week. Collecting Bike Week t-shirts from local bars like The Rat Hole, The Beaver Bar, Fat Jack's, The Dog House and the Dead Dog Saloon would be a great way to commemorate your special trip to Myrtle Beach Bike Rally. Grabbing a refreshing drink at these local establishments that cater to bikers would be a good addition to your cruising day. Rallies that are being held during Myrtle Beach Bike Week would include clothing and accessory vendors, burn-out pits, live music and delicious food. Bike washes, contests, games, raffles and prizes will all be found during this once per year festival.
Myrtle Beach Liquors is proudly serving the Myrtle Beach Area Attractions including:
Myrtle Beach Boardwalk
Myrtle Beach Ferris Wheel
Myrtle Beach Convention Center
Pelican Stadium
Myrtle Beach Airport
Broadway at the Beach